Joe Posa as Joan Rivers
The Crazy Coqs: Review by Stephen Vowles
By: Stephen Vowles, London, England
Posted on 17th July 2022
Jovial, jocular and joyous, Joe Posa is a true cabaret entertainer and star. So it is no surprise that the real Joan Rivers extolled on him the virtue that he was the best act to impersonate her.
Endearing, respectful, emotional and extremely heartfelt, Posa has the Rivers' mannerisms down pat and when called upon over-exaggerated the Rivers' persona taking it to a level that is actually very clever. Rivers was larger than life and Posa demonstrated that quality with an ease that is just so funny.
The pace of the comedy is perpetual and the delivery of the one-liners so immaculate. A fine tribute and homage to the late Joan Rivers. This is full speed comedy; Posa does not draw breath and it's to his credit that his attention to detail is extraordinary. Posa is a true professional handling, as was the case last night, a persistent heckler that was eventually removed.
No one was safe – Cher, Celine Dion, Streisand, Madonna, Nicole Kidman and even Princess Diana – but there was no malice there just good observational points made about these woman that I think deep down Posa as Joan respected hugely as fellow entertainers, as he also did as himself.
This is very high quality entertainment that somehow the Americans, especially born New Yorkers, seem to have a brilliance at and this is so, so the case with Posa.
If you get a chance to catch this man in action then do so. It's a great night; full of sparkle, candor, biting charm and wit. Fabulous
Joe Posa as Joan Rivers
By: Debbie White, Puerto Vallarta, MX
Joe Posa, Joan Rivers FAVORITE Joan impersonator, brilliantly recreated the comedy legend's look, mannerisms and signature frenetic energy for his recent shows at Incanto Vallarta. The show was a non-stop, laugh-fest as Joe lovingly and skillfully channeled Joan Rivers. This was a comedy show, we won't soon forget. The edgy and politically incorrect jokes were Joan Rivers all the way!
Joan Alexandra Molinsky(June 8, 1933 – September 4, 2014), known professionally as Joan Rivers, was an American comedian, actress, producer, writer and television host. She was noted for her blunt, often controversial comedic persona—heavily self-deprecating and acerbic, especially towards celebrities and politicians, delivered in her signature New York accent. She is considered a pioneer of women in comedy by many critics.
During her 55-year career as a comedian, her tough-talking style of satirical humor was both praised and criticized as truthful, yet too personal, too gossipy, and very often abrasive. Nonetheless, with her ability to "tell it like it is", she became a pioneer of contemporary stand-up comedy. Commenting about her style, she told biographer Gerald Nachman, "Maybe I started it. We're a very gossipy culture. All we want to know now is private lives." However, her style of humor, which often relied on making jokes about her own life and satirizing the lives of celebrities and public figures, was sometimes criticized as insensitive. (Wiki)
Joe's incredible impersonation of Joan Rivers was spot-on and a true work of comedy genius! He has researched and mimicked her jokes, her demeanor and her physical appearance. The energy, the facial expressions and the humor were so familiar for those of us who idolized and enjoyed Joan throughout her amazing career. What a gift to bring this comedy legend back to life in a show that honors her talent, her wit and her energy! Joe Posa is absolutely incredible as Joan Rivers and I give this show my highest recommendation. Hopefully, Joe Posa will return once again to Vallarta next season, so put this show on your Must-See list for next year.
JOAN RIVERS' MEMORY PRESERVED BY JOE POSA
ON THE AISLE WITH TOM ALVAREZ
March 17, 2023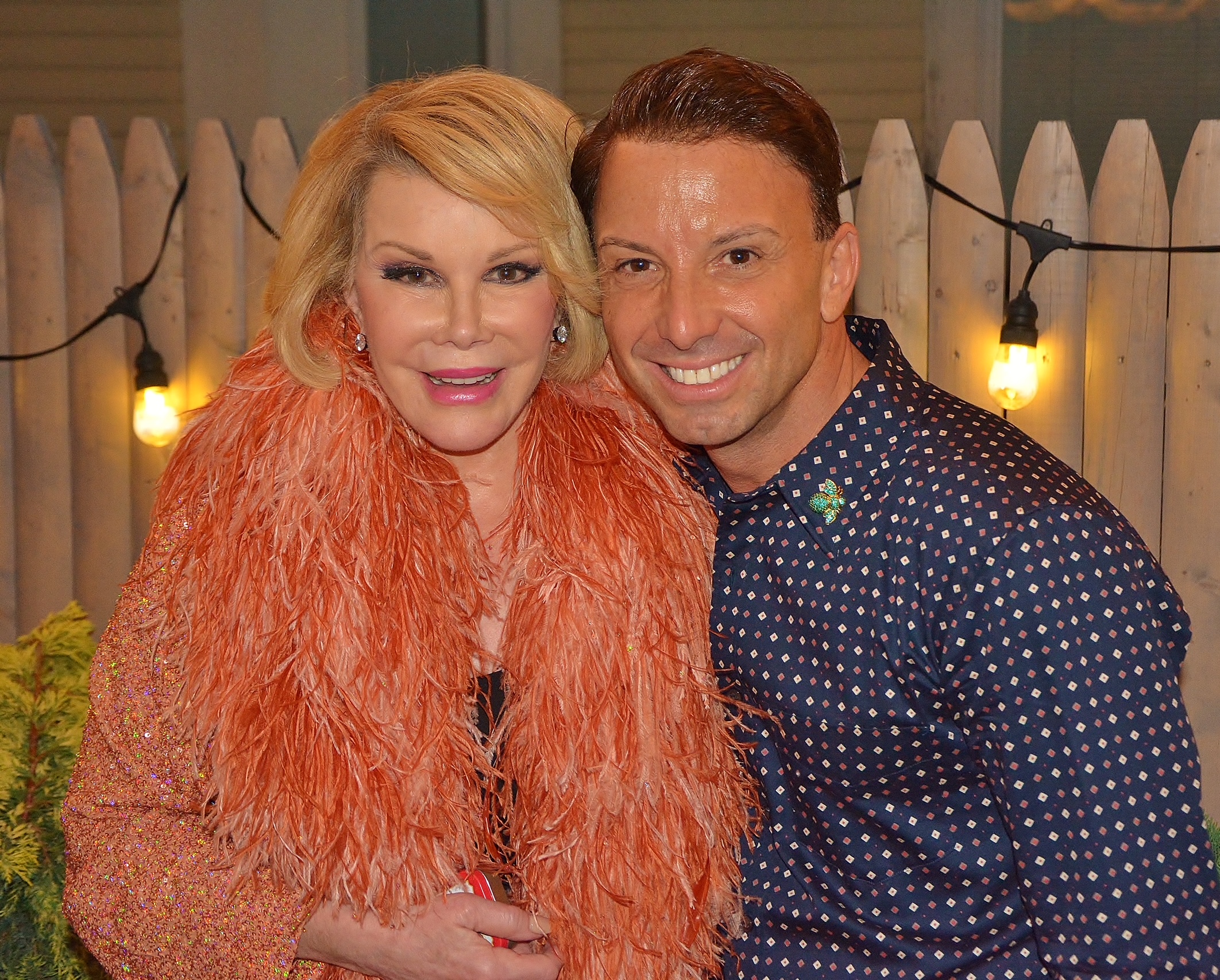 As a fan of streaming TV shows such as "The Marvelous Mrs. Maisel" and "Hacks," starring, Rachel Brosnahan and Jean Smart, respectively, I have increased my interest in female comics exponentially. Loving the acerbic wit delivered by the fearless characters in each of those shows, I am also a fan of real-life stand-up comedians such as Amy Schumer, Kathy Griffin, Sarah Silverman, Wanda Sykes, and Chelsea Handler. But before them all, there was trailblazer Joan Rivers who laid the foundation for all the women comics who followed her.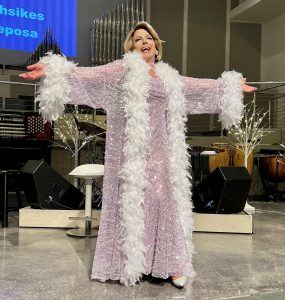 As my national performing arts coverages widens, I am increasingly alerted to artists deserving of exposure. One of those performers is Joe Posa, best known for his impression of Rivers, and who anointed him "My favorite Joan Rivers impersonator." Posa, who is managed by his husband, Frank Ribaudo, was brought to my attention by a mutual friend who lives in Ft. Lauderdale, adjacent to Posa's home in Wilton Manors, Florida.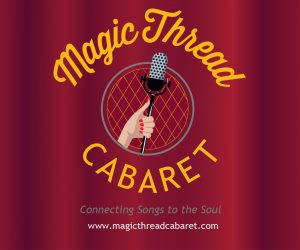 Posa, a NYC native, has performed internationally for 30 years as an actor and female celebrity impersonator in cabarets, nightclubs, TV, and in films. Most recently he has performed in "Back & BITTER Than Ever," his tribute to Rivers who died in 2014. Posa, who performed alongside Rivers several times, often shared the stage with her former head comedy writer, Tony Tripoli, who was co-executive producer of E Networks' "Fashion Police" and her opening act. As a celebrity impersonator, Posa has performed as Liza Minnelli, Barbara Streisand, Michael Jackson, and others. A trained dancer who was a cast member of "Evening at La Cage," Posa sharpened his characterizations of the performers he has impersonated in venues throughout the U.S. and Mexico.
Recently, I had the pleasure of chatting with the affable Posa by Zoom from his Wilton Manors home about his alter ego Rivers and the career he hopes to further expand. My first question was "Why Joan Rivers?" to which he replied, "Like most gay men, I am a fan all the divas such as Barbara, Liza, and I loved watching Joan. I thought I could do Joan after watching her on the 'Tonight Show," her own show and upon doing research on her. She is a New Yorker, I am a New Yorker, and we are similar in the way we roll… 'Oy! whatever, been there, done that.' There was this spirit of New York about her and her Jewish humor that spoke to me. But I also learned that she was compassionate and caring, like I have been told I am."
According to Posa, the popularity of his act, which he says attracts both straight and LGTBQ+ audiences, rests on the fact that Rivers and her irreverent, off-color humor is missed. "She told it like it was. These days no one wants to insult one another. People miss her because she was not politically correct. She could talk about Jews, politics, ugly people, gay people. Nowadays you have to be so politically correct or else you get slapped at the Oscars or people cancel you. When you see Joan, you are going to get off-color humor. People miss the honesty in her comedy. Now everyone must watch what they say and that gives me, an actor playing her, the freedom to crack jokes like, 'Oh you're old. The good thing about old people and sex is you don't have to change the sheets, the nurse does. Or 'You buy at Costco. Why? 98-years-old and you buy 18 large jars of mayonnaise. You're not even going to make it to the checkout counter. Why?' or 'Gays are the best audiences in the world. Let us hear it for the gays. They laugh at anything, they are so stupid.' She had a twist on everything. She would talk about categories of people but if you really listened, she was never too harsh. She got people. There was a Ying and a Yang. She was heartfelt. She addressed everybody but did it with humor. She let people in on her jokes."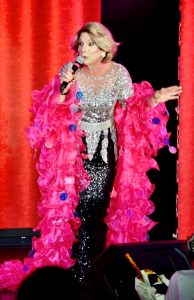 Since Posa performs in drag as Rivers, I asked him if he felt that female impersonation is now more mainstream thanks to entertainers such as RuPaul to which he answered, "RuPaul has helped open the doors, but there is also a backlash, like what is happening in Tennessee to outlaw drag shows and here in in Florida with DeSantis trying to save kids from drag artists. What about the guns that are killing kids? Why are we going after drag artists? I have hope, however, because young people are voting and are more aware. They do not care and are more fluid about their sexuality. I live in the space of hope and optimism. Yes, drag is becoming more mainstream and it's fun. People need to be entertained, especially post pandemic, but there is also pushback."
When asked if feels he has made a major breakthrough as an entertainer, Posa said, "A few things are in the works, and I am in talks for something big. In the meantime, I am in Palm Springs playing The Purple Room, March 31 and April 1. Last March, Steve Campbell, who was the manager for the great Jim Bailey, who performed Barbara and Liza, saw my act there. Insisting I needed to be seen in London, he made a call and I eventually played there to great reviews and am scheduled to return. They love Joan in London."
As far as what the future holds, Posa said, "I met Liza once and she said, 'You do the work and be ready for when things happen.' Joan is quoted as saying, 'If you stand in the rain long enough, lighting will strike.' I really hope it happens quick because I am not getting any younger. (laughs) But I do feel like things such as meeting you and your interest in me is encouraging. My work is ripe now. Joan has been gone for nine years in September, so the grief period has also passed. On a national level, people are ready to see her again. On an emotional level, everybody is ready. Joe Posa is ready. My costumes, my wigs, and my act are ready, so people are calling. People in the industry have me in their sights, and I am ready for lighting to strike. I see something on he horizon."
Metropolitan room, New York city
By: Tim Teeman – Daily Beast
"Certainly, the figure in the outrageous black and gold ruffled coat and black pants on stage at New York's Metropolitan Room sounds and looks a lot like Joan Rivers.
As someone fortunate enough to have interviewed the real Rivers a few times—the final time, her last major interview before her death in August 2014—the similarities of voice and presence between the figure—the performer Joe Posa—and Rivers are resonant and mesmerizing."
Joan-who-isn't-Joan, who is already holding us spellbound, is Joe Posa, a 50+ year-old actor and former dancer. His performance is not a simple drag act: He truly inhabits the Rivers persona—and Rivers herself loved his act.
Rivers died, aged 81, while undergoing a throat procedure; her daughter, Melissa, settled a medical malpractice suit against the facility earlier this month.
Posa-as-Joan comes on stage waving and flapping at the air, like a demented crow, rasping that salty ashtray-growl of hers, and she immediately starts scything merrily away at celebrity images and reputations.
"Celine Dion: She's so thin. When I saw her in Las Vegas the black suit she was wearing made her look like a closed umbrella."
The audience laughed.
"We mustn't laugh. She just buried her grandfather." (A typically Rivers response to the death of Dion's husband, René Angélil, 26 years her senior.) "Joan" says that when she got to Heaven she ran into Robin Williams. He says, "Joan, you're in a better place." Rivers replies to him, "I'm not in a better place. I've got a house in the Hamptons."
When Rivers was alive, Posa's was the classiest imitation act around; now he is traveling around the country with a memorial show. "Joan" is told at the gates of Heaven they're not quite ready for her, so she has come back to give us one more show.
It is not just Posa's guttural voice, outrageous clothes, and stooped-missile bearing; Posa captures Rivers warm emotional presence too.
Posa performed after Tony Tripoli, the best kind of warm-up act, as he was Rivers close friend and head scriptwriter on Fashion Police. (Another interview with the funny and insightful Tripoli will follow in a few days.)
When Posa-as-Joan appears, the jokes begin firing out immediately—as they did with Rivers—like a potty-mouthed machine gun.
Her vagina has fallen so far and is so gray, Posa-as-Joan says, she finds herself thinking why is she wearing bunny slippers. Donald Trump hates immigrants—except the two he married. It's easy for gay men to fake an orgasm—they can just spit on the other guy's back. Princess Diana was so lucky—she was so thin, so gorgeous, with two beautiful children, and a husband who didn't want to sleep with her.
Posa first met Rivers in Houston, Texas, in 2006, having performed as her since 2004. He had been hired to be her at a corporate event play-acting the red carpet shtick she made her own—later parlayed into Fashion Police. Rivers herself was hired for the main show.
Backstage, she told him he looked great. Onstage, when the emcee welcomed Posa-as-Joan to the stage, the real Joan stormed on and barked: "Get off my stage, bitch. That's Joe Posa. He makes money doing me everywhere."
When the show was over, Rivers told Posa, "You're fun," and invited him back to her dressing room, which was far fuller of nicer things than his.
Rivers started packing all the free food provided for her into plastic bags for Posa and told him if he ever wanted tickets for her shows, to call her office. "She was just so lovely," says Posa. "We had a connection. She was like a mother, so nurturing."
He laughs, recalling that she commiserated with him about how he had been put on an early flight home the next morning (they were cheaper). The pair almost slipped in the kitchen on the way to the stage, and Rivers said she would sue; Posa joked they both would.
Growing up "closeted in New York in an Italian family," Posa loved listening to his relatives' voices. He studied at the American Academy of Dramatic Arts, "but instead of learning Shakespeare would make all the students laugh with impersonations of our teachers."
Posa had been a dancer; then, as well as Rivers, he formed an act around impersonating Barbra Streisand, Liza Minnelli, and Michael Jackson. He has also impersonated Susan Lucci and Tina Fey.
"Somehow I got a knack for getting inside the people who I impersonated, more than what they were wearing or looking like, but a sense of their spirit and what made them tick," Posa says. "People think Barbra is a diva, grand, but my approach was a girl who lost her dad as a child, and who wasn't that attractive, and who was insecure but strong.
"Liza was tormented, drunk, but with so much love to give, and Joan was a survivor of showbusiness and suicide [of her husband Edgar Rosenberg, in 1987], with so many components to her that are compassionate because of that journey."
People have suggested Posa "do" Bette Midler, but—besides the song and camp about her he knows he could execute—he does not know what makes her tick. "Unless I know what that other thing is, I can't fully embody it. With Joan, I really understand her journey. I understand her personally, and it was in the kindness and compassion she showed me, and the hard work she did, and I do too. Tony Tripoli said to me, 'People can look and sound like her, but you smell like Joan.'"
Offstage, Posa says he is like her too. "She was quiet, sensitive, quite beside the 'vagina this vagina that' people associate with her. She let loose onstage. I'm like that too—shy to a degree in my own life. She loved elegance, crystal, white-gloved service, the beauty of life, entertaining in that grand New York apartment."
If Rivers had no respect for niceties and boundaries—only on-the-edge jokes about grandson Cooper were off-limits—and was often criticized for racism and offensiveness, Posa feels he is less confrontational by nature.
"I'm not as opinionated in that way. I'm not as out there with Facebook postings: 'Don't vote Trump, do this, how dare you…' I'm a little lighter in that vein, not as soapbox-y. The thing for me with impersonating her is that it enables me to get lot of stuff out that maybe I am thinking that I don't go through life cramming down people's throats."
So he doesn't find it hard saying the things that are often classed "unsayable." "I'm in her head when I'm performing. I am her. I feel like I am channeling her. The experience is bigger than us. It's not about me. I'm a vessel for her work and her voice."
Posa has felt Rivers presence a couple of times, both involving the presence of a bee.
"It was her favorite QVC piece of jewelry (from her own collection). The bee, to Joan, should not have been able to fly, anatomically speaking. The fact it did was an example to her that she, we, could defy whatever odds. The bee, when I saw one the first time in Mexico, felt like a blessing. I knew she was happy, or happy with me. Now I ask for her help. If we've done four or five cities in six days, I say, 'Joan I need a little lift.'"
The show is an intense and demanding 70 minutes, with Posa soon wiping away rivulets of sweat. The costumes are replicas of those designed for Rivers by William Ivey Long. Posa has not had the plastic surgery that Rivers was famous for, though does have Botox twice a year.
"I don't want to be her when I'm not doing her," he says. "I don't think that's a healthy approach. It's a role." (Posa has been with his partner and manager, Frank Ribaudo—the founder of Boston's famed gay venue, Club Cafe—for 23 years; they married ten years ago and live in Fort Lauderdale.)
Posa last saw Rivers in Provincetown in July 2014. Both were performing their acts; she for the first time in the long-standing favorite LGBT holiday spot.
"I said to her, 'I do you in my show respectfully.' She said, 'You could do me disrespectfully.'"
He says he always gave Rivers a $25 Starbucks gift card: She traveled so much, and Starbucks was her favorite coffee on the road. The last time they saw each other, he gave her a kiss on her cheek.
A few weeks later she was dead, and Posa's shows were still going on in Provincetown. For Rivers, the show always went on—edgy jokes at the forefront. "To be honest, I feel as though I haven't grieved in the right way," says Posa. "I didn't want to be disrespectful by performing, although after Edgar's death she was making jokes about it. People shouted at me, 'Why aren't you in Hell?' I said, 'Yeah, fuck you.'"
Posa sighs. "If anyone asked why I was there performing, as I was dead, I said, I hope as Joan would have replied, 'There's a check at the end of the evening.' For Joan, you got through all kinds of times by embracing them, and just getting through it."
Posa imagines Rivers in Heaven maybe with Edgar—"although she may still be as furious with him for committing suicide," as she said so volubly when she was alive. Maybe, Posa says, she's at the gates of Heaven welcoming people in: "Who are you wearing? I bet you're glad you're dead. Now you don't have to deal with what was going on down there."
He laughs softly. "She's up to something." And down here, she's up to something too.
BROADWAY WORLD ARTICLE
A One-Night-Only Performance of TRIBUTES With Joe Posa and Seth Sikes Will Debut in South Florida in January
Saturday, January 14, at 8 p.m., at the Sunshine Cathedral Center for the Performing Arts.
by Stephi Wild Nov. 30, 2022  
  The stars will align when Joe Posa and Seth Sikes unite to perform for one night only in "TRIBUTES," a loving homage to female leading legends, on Saturday, January 14, at 8 p.m., at the Sunshine Cathedral Center for the Performing Arts (1480 SW 9th Avenue). Tickets for this dynamic duo show are on sale, now.
This new tribute show, produced by the leading men, themselves, will bring two worlds of performance art together: female impersonation and live song. Joe Posa will impersonate Joan Rivers, Barbra Streisand and Liza Minnelli while Seth Sikes will delight audiences with his soulful voice singing of nostalgic tunes made famous by Judy Garland, Bernadette Peters and others.
"We couldn't be more excited to debut our new 'TRIBUTES' show which will recreate some iconic moments in show business history," said Joe Posa. "Seth is a huge talent and, together, we will deliver a stellar night of entertainment that pays homage to show business legends, past and present, who continue to be adored and admired the world over."
Joe Posa has made a name for himself in show business, starting his career in musical theater as a performer/dancer featured in the international touring company of West Side Story plus other musicals including Anything Goes, Grease, A Chorus Line and South Pacific. In 1993 (soon to be celebrating his 30th anniversary), he then found his wings as a sought-after female celebrity impersonator. Having performed alongside Ms. Rivers on two separate occasions, Posa was lovingly called by Ms. Rivers, her "favorite Joan Rivers Impersonator." As a cast member in several productions of "An Evening at La Cage," he has performed as Barbra Streisand, Liza Minnelli, Gloria Estefan and Michael Jackson. Posa was also Susan Lucci's Erica Kane character double on ABC's "All My Children," as well as Tina Fey's Liz Lemon character double on NBC's "30 Rock." Posa has produced and starred in multiple shows in Provincetown, Puerta Vallarta, Boston, Palm Springs and other resort towns for nearly 20 years. His productions include, "Guys as Dolls," "An Evening at the Birdcage," "Joe Posa Poses," and "The Bitch is Back!" Also, he has performed at numerous red carpet corporate functions, charity fundraisers and elegant private events.
Seth Sikes is one of New York's most popular young nightclub performers. Hailed as "the best male singer of his generation" by Theatre Scene, Sikes has been selling out venues since his 2014 debut of "Seth Sikes Sings Judy Garland." The show recounted how Garland inspired Sikes as a young boy in Paris, Texas, while he belted the legend's greatest hits backed by a seven-piece band. The show won Broadway World's Best Tribute Show award and prompted The New York Times to declare, "The performance was a hit with critics and audiences, alike." The reviewers were equally enthusiastic toward his follow-up show, "Seth Sikes Sings Liza Minnelli." The New York Post relayed, "It was a heartfelt concert. Sikes has a heap of fans, and his audiences are always tightly packed and brimming with enthusiasm for his booming, jazzy renditions of their favorite songs." When the Covid pandemic prevented Sikes from performing for live audiences, he created a series of online music video parodies that went viral, viewed by hundreds of thousands. His most recent video, "Ring Them Bells," was selected to close the globally broadcast Liza Minnelli 75th birthday tribute. Sikes also works in the theatre behind the scenes. He was associate director for "The Band's Visit" and "The Nance" on Broadway. He directed the original musical "Bunked!" which won Outstanding Musical at the New York International Fringe Festival in 2010, as well as "The 7th Annual Broadway Beauty Pageant."